A Lot of Attention to Detail!
Owning a luxury vehicle requires attention to detail. And the same can be said for those of us in the car care industry.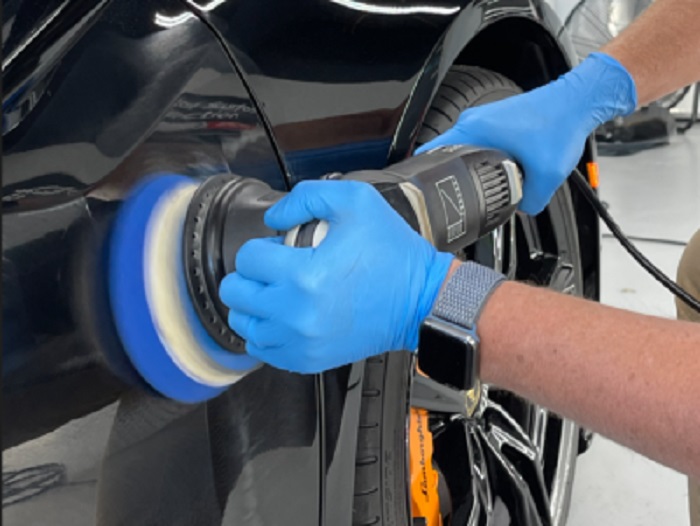 Our Car Detailing Process is Thorough
So what does car detailing include? We are proud of our proven system that will make your vehicle shine, inside and out!
Hand-wash using a 2 bucket system.
This system goes a long way to prevent scratching and swirling caused by sediment found in wash water. The first bucket is the soapy wash water. The second has clean, filtered water. After a sponge delivers soap from the first bucket to the vehicle, it is rinsed in the second bucket to remove sediment picked up from the car.
Always utilize filtered water.
We always use filtered water during an exterior wash to prevent tiny particles of sediment, minerals and other naturally occurring elements found in most utility water.
Iron decontamination and clay bar.
These are key steps in washing your car's paint because they remove additional contaminants that cannot be removed with soap and water. These include tar, bugs, and tree sap.
Full wheel and wheel barrel detail.
Cleaning the wheels requires time, patience and attention to detail. We use cleaners that are safe for delicate carbon rotors. We also apply tire dressing to restore a glossy shine to the tires.
Exhaust tips cleaned and polished.
Removing hydrocarbons, brake dust, dirt, grime and oxidation.
Clean door, trunk, and hood jambs.
You will see beautiful results in an overlooked area, when we remove dirt and grease accumulation. Of course, we pay special attention to painted surfaces.
Complete interior detail.
Vacuum, steam and material-specific polish of interior surfaces.
Model-specific services
Depending on your vehicle model, there may be additional services we can provide to make your dream vehicle gleam once again. 
Get High-Quality Car Detailing from Complete Auto Reconditioning
At Complete Auto Reconditioning in Marietta, we understand the high-quality care required to keep your unique vehicle looking new. We are dedicated to our craft. And we are proud of the delicate touch that will keep your luxury automobile as beautiful… or even more beautiful than the day you bought it.